Making a Difference Awards
The Making a Difference Awards are presented by the NSCC Foundation Board to recognize and celebrate the people and organizations committed to bettering their community and to increase awareness of their contributions across the communities served by Northwest State Community College.
Eligibility
Three awards will be presented annually to candidates who have had a positive impact on the six-county area. Posthumous nominations are also considered. One award will be presented to an individual, one to a business and the third will be presented to an organization. Examples of possible nominees include; (individual) philanthropist, inventor, employer, educator, volunteer/advisory board member, (business) any business creating opportunities through services, products or employment opportunities, (organizations) Jaycees, Boy/Girl Scouts of America, The Open Door 'transitional living and learning' program, etc.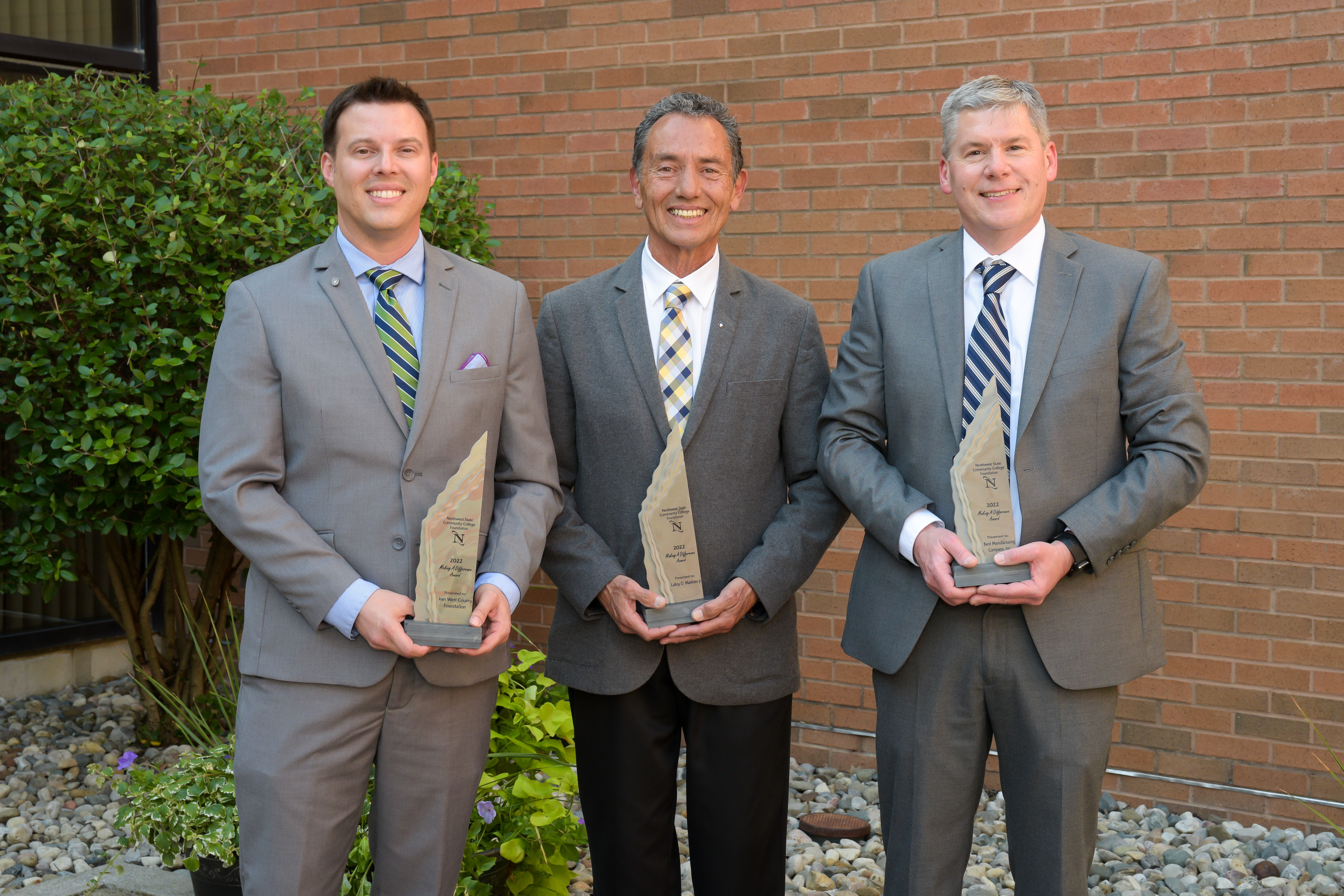 Past Recipients
2022
Organization:Van Wert County Foundation
Business:Bard Manufacturing
Individual:LaRoy O. Martinez Jr.
2021
Organization: Farm Bureau of Defiance, Fulton, Henry, and Williams Counties
Business: Terry Henricks Ford & Chrysler Dodge Jeep RAM
Individual: Daniel Yahraus
2019
Organizations: Bryan Area Foundation & Four County ADAMhs Board
Business: Keller Logistics Group
2018
Organization: Quadco Rehabilitation Center
Business: Parkview Physicians Group
Individual: Ed & Carol Nofziger
2017
Organization: Sarah's Friends
Business: North Star BlueScope Steel
Individual: Denise Herman McColley
2016
Organization: Adriel
Business: Dental Excellence of Napoleon
Individual: Rick Small
2015
Organization: CPC Women's Health Resources
Business: Cooper Farms
Individual: Norm Zeiter
2014
Organization: Wauseon Rotary Club
Business: Rupp Seeds
Individual: John Wilson
2013
Organization: Fellowship of Christian Athletes
Business: Chief Supermarket
Individual: Pamela Hayman-Weaner
2012
Organization: Henry County Hospital
Business: Campbell Soup Company
Individual: Judge Steven R. Bird
2011
Organization: Sara's Garden
Business: Farmers and Merchants State Bank
Individual: Dean Spangler
2010
Organization: Maumee Valley Guidance
Business: State Bank and Trust Company
Individual: Erie Sauder
Contact
For additional information contact:
Robbin Wilcox, Executive Foundation Director
419.267.1460
rwilcox@NorthwestState.edu